Versace Pre-Fall 2019: Medusa Arrives in New York City
---
Financial Times | 12.03.18
Donatella Versace brought the Italian luxury house to the American Stock Exchange. Was it on the money?
By Jo Ellison DECEMBER 3, 2018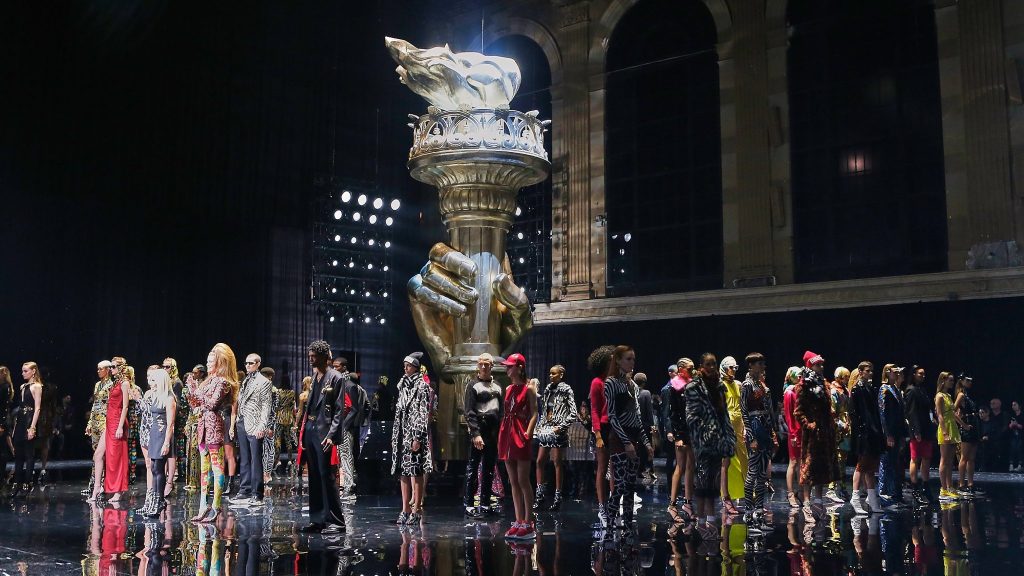 Three months after announcing its sale to the Michael Kors group (now Capri Holdings) for $2.1bn, Donatella Versace arrived in New York this weekend to stage a lavish pre-fall collection at the American Stock Exchange building. Though not usually considered part of the annual schedule, the creeping presence of the pre-fall show, featuring clothes that will appear in store next May, is becoming a more established feature of the calendar. Chanel started it with their first "métiers d'art" show in 2002 and other brands are now jockeying around the globe to follow suit.
For the new Capri shareholders at Versace, this outing was an opportunity to show off their latest asset. The purchase by the US group, which also owns the luxury footwear label Jimmy Choo, has given them a launch pad into the European luxury market. And they are planning a speedy expansion. Capri intend to more than double revenues to $2bn and increase the label's retail points from 200 to 300 stores. They have also announced their intention to make accessories and bags 60 per cent of revenues (they currently account for only 35 per cent). It's an ambitious plan. And the stock exchange seemed an auspicious place to stage the first expression of this new Versace order.
If there were a lot of handbags, wheelie trolleys, purses and sneakers on the catwalk, the show was principally an opportunity to showcase the core designs with which the late Gianni Versace made his name.
With safety-pin dresses à la Liz Hurley, the navel-plunging silhouette made famous by Jennifer Lopez, a "love Versace" heart print inspired by a vintage Jim Dine design, all gilded with lashings of barocco print, this show was in essence a celebration of Versace's greatest hits. And a re-issue of the signatures on which Capri clearly believes its $2bn fortune will be built.
Is the appetite for glamazon goddess dresses held together with Medusa-head safety pins still there? Maybe. Small concessions to the modern era were here — the footwear, for example, was much flatter — but much of the collection recalled a bygone era of glossy polish. Especially the shiny, super-opaque 1980s-style tights.
"It's very glamorous, very free and very much a tribute to my brother," said Donatella Versace, who has stayed on as creative director as part of the Capri deal. She was very happy with the temporary relocation. "I'm extremely comfortable in New York," she said of her American outing. "So comfortable I don't want to go home."